RACES 1&2 : SPA-FRANCORCHAMPS: 29-31 MAY 2009
by Nicky Paul-Barron & Fellow Competitors
With the cancellation of our Donington races the first outing of the year for both 'Open' and 'formula 'classic'were set for Spa at the end of May. As previously at Spa, the entries for both series were combined, guaranteeing a decent number of cars on the grid. The downside of this of course is that where we have drivers with cars in both series, we do loose them from 'classic' (racers tend to prefer the faster 'Open' cars when given the choice of which car to run).

Track day club RMA had booked the track for Wednesday and Thursday, and some of our drivers made the trip early to take advantage of the extra practice. Unfortunately it was very wet. Tim Mogridge was one who did it, driving out there in his 550 and reported. "At the initial driver briefing the man in charge asked who would bet that a car would be in the wall within the first half hour ! I guess everyone has a particular way of presenting but I am not sure that this would be suitable for FOC track days. However he was right and the day was full of incidents."

Both the old "endurance" pits and the newer F1 pits were available to hire, and the Ferraris were also allocated a space in the crowded paddock. This split our cars, which is always a shame. As usual at Spa the paddock was mayhem and the ticket collection and sign on etc. were chaotic. The ADAC were our hosts, and of course we are grateful for their hospitality, but the races were affected on both days by their inability to carry out the simplest of tasks – like race starts and safety cars.

Our first qualifying session was set for Friday morning, and the weather was fine and dry. Pole-sitters were Gary Culver in 'Open'and yours truly in 'classic'. In 'Open' Tris Simpson was getting to grips with the Aston (N24 & GT4 models being invited into 'Open' this year) and the car in white was quite stunning. Alan Cosby had made the trip in the big 512M as had newcomer Ray Stewart in the ex - Elwyn Owen-Jones 246 GT. This old warhorse has a full race 246 engine on slide throttle injection and programmable ignition. Chris Rea was back too, after a year away, in the ex - Simon Bartholomew 328 GTB (formula 'classic' group 3). No minders, no groupies, no shades, just Chris, which is great.

However many times I drive Spa the circuit always impresses. There is something about the combination of corners and gradients that is just so satisfying to drive. Frankly Spa is not as good as you expect - it's better. Socially too, these are great weekends. There is time to have a few drinks and a meal with friends, 56 people sat down for dinner on Friday night. There was time to share the experiences of the day, and generally kick back a bit; time to see how many beers the R&D boys can fit on one table and time to admire Didier Benaroya's beautiful XK 120 Jaguar.

I'm as bad as anyone at doing the tourist bit, but even I managed a stroll through the ancient town of Stavelot, enjoying a coffee with Viv at a roadside cafe watching the world go by on the cobbled streets. That isn't to say that you can relax for too long. Spa has a bite, and it was a great shame to see David Edge's F40 bruised, and on the recovery truck, after a whoopsie at the top of Eau Rouge in race 1. Others who did not manage to see the week-end through, in their case due to mechanical maladies, were Alan Cosby from 'Open', and both William Jenkins and Chris Compton-Goddard from 'classic'.

The last two are both running fibreglass 308 GTBs in class 2 for "lightly modified" cars up to 3,000cc. Both cars are potential race winners, as the regulations favour them considerably; over 300 bhp and 1175kg, against a 328 in class 3 or class 4 with 270 bhp and 1255kg. Quite why the regulations were ever written in this way has always been a mystery; 'formula classic' was always intended to encourage members to race their road going older cars. As it stands, to buy a very rare glass fibre 308 GTB and prepare it to the standard required is likely more expensive than buying a 360 Challenge car – crazy. The excuse for the inequality seems to be that 328s always win 'classic', but put someone like Gary Culver in a 315 bhp 1175 kg car and see where he goes!

Anyway, enough of that, in the first race the 'Open' section was won by Gary Culver from Tim Mogridge and Dave Tomlin was third. Tim Mogridge reports: "When the lights went out we all funnelled into La Source and I maintained second and was right on the leader's tail. Lap after lap Gary extended his and I did the same over the third placed car (Tomlin). It was looking like another second place finish again. However, as we all know, poor David Edge lost control of his lovely F40 at the top of Eau Rouge with dire consequences. Luckily David was absolutely fine but the car was not so good.

"With a safety car deployed, this bunched us all up and destroyed the advantage that both Gary and I had created over the rest of the field. I even looked at my watch and presumed the race would end under these conditions. So, caught napping, we all restarted for just one lap and I had to resort to some major defensive driving to keep a hard-charging David Tomlin behind me."

Tommo's left front tyre was shredded and it turned out a wishbone was bent. Kevin his mechanic spent 9 hours stripping and re-building the front suspension and steering and resetting the geometry.

The first 'classic' race was badly affected too by the shambolic safety car period. Guest driver Nick Adcock took the most advantage of the situation to win in "Rosie", David Tomlin's 328. Some thought it a bit of a tart's move that won the race, and Tommo later suggested that there is a porn star called Tracy Badcock – so for a while "Rosie" is now named "Rosie Badcock". [We've heard a fair bit about this incident including how the organisers did not follow their own Safety Car procedure and that Adcock passed under a yellow flag to win, but went unpenalised. Most think that NP-B was robbed, but admire him for not making a fuss – Ed.]

The Sunday race was not interrupted, although the ADAC cocked-up the revised start procedure. N.P-B won in 'classic' from Chris Butler and a trio of Cartwrights. Chris Butler reports that: "Another hillclimbers' start got me into La Source alongside NP-B and Ben Cartwright with the three of us continuing our tussle down the hill to Eau Rouge with NP-B snatching the lead from Ben then me. We even passed the tail end of the 'Open' field in those opening laps.

"With NPB once again racing off into the sunset, a gap of around four seconds opened up between Ben and me, with his brother Jim fast catching us both up in the ex Spicer/Whitman group 4 328.

"It was quite clear that Ben was quicker than me on the uphill sections of the lap but then I would gain on him in the second half of the lap through the downhill sections. On the last lap Ben seemed to be really struggling with brakes and grip and I caught right up to his bumper as we came into Pouhon and Stavelot but he stuck beautifully to his lines and I couldn't find a way past.

"I drove through Blanchimont for the final time quicker than ever before and once again we were bumper-to-bumper. Ben ran wide over the exit kerbs so I decided to dive alongside him under braking for the Bus Stop but as we both braked late our wheels locked up. Ben lost the back end of his car and started to spin and I swerved to the outside of the track to avoid him and ran over the outside kerb at the Bus Stop and past him to get to the finish line in second place.

"The podium ceremonies do put a little lump in your throat and it was lovely to see that fourth place man Jim Cartwright joined us on the podium to collect his well-earned trophy after fighting through the field from the back row of the grid. He stayed up there for a minute or two after the rest of us had returned to the pits and told me afterwards that he was simply taking it all in just in case it never happened again. Moments like this are priceless!"

'Open' was won by David Tomlin, who told us he got into second at first corner then followed Gary Culver for six laps, got past briefly on lap 5 but on the final lap got past finally going into Pouhon. All things considered, he had enjoyed a bit of a mega week-end and was very happy at the end! Gary said: "A rare good start allowed me to enjoy the lead, up until when it really mattered! Tomlin, who was driving very hard, managed to slip down the inside as I turned into Pouhon. I prepared to respond, but just ran out of time to try anything meaningful." The first three home (Tomlin, Culver and Reeder) all had fastest laps in the 2.44s. This is a very hot pace indeed and we should all be pretty impressed.

Naturally during the week-end there was the odd toy out of the pram, the odd handbag brandished, but nothing too serious. This is racing and inevitably there is a fair bit of testosterone and adrenaline flowing.

Overall the message is pretty simple. Racing with our Club is a great experience. There are even ways of doing it on a tight budget if required. Race meetings overseas are the best, and Spa may the best of the lot (despite the organisation). If you ever get the chance, take it, the opportunity may never come again. As Peter Evers said to me only recently: "This is not a rehearsal".
[roll mouse over pic for caption, click to enlarge]
Click here to go in-car with Graham Reeder
Click here for the results of 'Open'
Click here for the results of 'classic'


Click here to return to the Pirelli Ferrari Open index page.
Click here to return to the Pirelli Ferrari formula 'classic' index page.
Open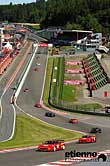 There's nowhere quite like Spa

Culver leads the field

Alan Cosby - F512M

Ray Stewart - Dino 246GT

David Edge - F40

Lee Moulden or Vance Kearney (we think) - 355/Ch.

David Hathaway - 355/Ch.

Barry Carpenter - 355/Ch.

John Shirley - F355

Tris Simpson - Aston Martin N24

Wayne Marrs - 355/Ch.

Mark I'Anson - F355/Ch.

Nigel Jenkins - 355/Ch.

Tim Mogridge - 355/Ch.

Graham Reeder - 355/Ch.

Gary Culver - 355/Ch.

Dave Tomlin - 355/Ch.
formula classic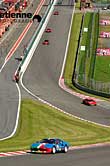 Classic cars, classic circuit

Race 1 Safety Car shambles about to unfold
pics by etienne fotografie & Oliver Read Motorsport Photography