6.12.02
We discovered this gem of information on the website of www.woodworkersauction.com

At the beautiful Venetian Gallery in Las Vegas, we found this little beauty. It looks street worthy, but it is crafted totally from wood. Now, that's a woodworking project. Sorry, no plans available. You'll have to figure it out on your own.

Look at the detail on the interior. Wouldn't you love to roar down the street in this? Sorry, guys, no engine. But you'd probably look good just pushing it, or you could just wipe it down with a diaper and linseed oil every day.

You'll find the Ferrari F50 on display on the main floor of the Venetian in Las Vegas and for a mere $185,000 it's yours. Just consider you're getting over 10 different woods for your money. However, we noted that it appeared to be mostly constructed from pine.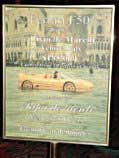 On the upper level of the Venetian, in the Grand Canal Shops and just off the Grand Canal, you will find the Ripor deMonti Gallery where other works by Livio de Marchi are displayed. There you can see a pair of wooden bib overalls that form a chair, a piece of home decor that is a woman in a shower with wood droplets and wooden puddle, and a variety of wooden coats and hats hung on the walls. A truly amazing display of wood art!
Click here to return to the Ferrari Happenings page.