GALLERIA: Schumacher & The Enzo at the Ring
by Andreas Birner

27.9.02

More than 35.000 visitors attended the sixth Ferrari Racing Days at the Nürburgring on the weekend of September 6-8, 2002.

Sunny and warm weather attracted hundreds of Ferraristi from all over Europe to the biggest Ferrari event of the year. On Sunday, 1,143 Ferraris were counted in the parking areas.

The highlight of the Ferrari Racing Days was the visit of the Formula 1 World Champion Michael Schumacher on Sunday. The Ferrari star was flown in by helicopter and performed a 90 minutes programme on the track. He presented the new Maserati Trofeo as well as Ferrari's new super sportscar, the Enzo Ferrari, and gave some spectacular demonstrations at the wheel of his F2002 Formula 1, including the usual "doughnuts" on the straight.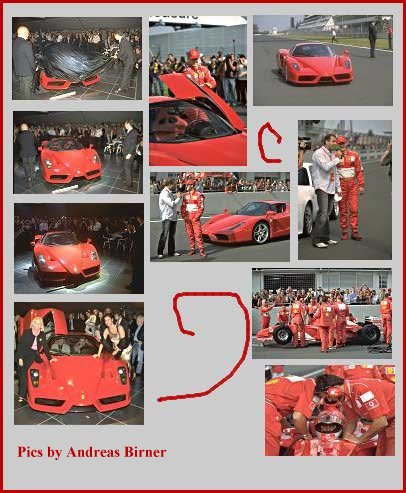 Click here to return to the Ferrari Happenings page.