Mike Cantillon Wins Ferrari Challenge
info and pic from Ferrari UK


10.11.08

The end of season Ferrari Finali Mondiali took place at Mugello Circuit last weekend.

Top of the agenda for Friday was Race 1 in the Ferrari Challenge Trofeo Pirelli – Coppa Shell series, which saw Mike Cantillon driving for Team Vertu Racing take the Driver's Championship with 1 race to go. Mike had a commanding 58 point lead going into Friday's race, and only required a points paying position to secure an unassailable lead ahead of his nearest challenger, Walter Forer.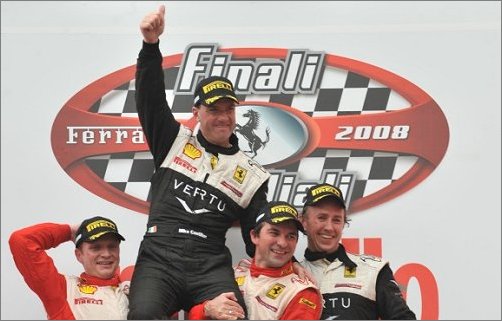 Having qualified in 7th position, with his Team Vertu Racing team-mate Jamie Constable in Car 327 alongside him in 6th, both drivers were faced with a choice of Wet or Slick tyres after a formation lap which saw a brief and light rain shower, with threatening clouds which helped the organisers decide to declare a Wet Race. Due to the uncertain and changeable conditions, every team was faced with a real dilemma regarding tyre choice – and Mike gambled on Wet tyres, while Jamie gambled on Slick tyres.

Unfortunately for Mike, even though he was quickly in the lead after only 3 laps, his Wet tyres quickly went off and he needed to pit for Slick tyres as the track dried out and the lap times clearly showed he was losing track position. However, Mike's nearest challenger, Walter Forer had also started on Wet tyres and when he made a pit stop for slicks, Mike came in and made the same change. With Mike's points lead, he only needed to finish the race with a couple of points to clinch the championship as it became clear that Forer was not going to win the race.

Mike joined team-mate Jamie Constable on the podium to be declared the 2008 Ferrari Challenge Trofeo Pirelli – Coppa Shell Driver's Champion, while Jamie celebrated a third stolen with a last lap lunge from fourth place with only a few corners to go.

After an action packed final race at Mugello on Saturday, the Ferrari Challenge Dealer Team GB had another reason for celebration as Cantillon, finished on the podium and secured more than enough points for the team to win the Team's Championship as well.

Click here to return to the Ferrari Happenings page.