Ferrari California Specification
info and pic from Ferrari Media


8.10.08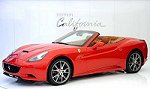 The Ferrari California finally made its official debut at the Paris Show. It comes as no surprise that the new tipo is a convertible with retractable hard top. It is fitted with a front-mounted direct injection V8 engine, 7-speed gearbox with steering wheel-mounted F1-style paddles coupled with a new dual clutch, a new suspension system (double wishbones at the front and multilink at the rear), F1-Trac traction control system and Brembo brakes with CCM (carbon ceramic material) discs as standard.


Click here for the full specification.





Click here to return to the Ferrari Happenings page.