Phil Hill 1927-2008
by Peter Collins

1.9.08


Although it is generally accepted that Phil lived on the West Coast of the USA and became a World Formula One Champion, there is much more to the man who was possibly the most intellectual and deep-thinking drivers ever to sit in a Grand Prix car.

Philip Toll Hill was actually born in Miami in 1927, but his family moved very soon after to Santa Monica where his father became postmaster. Cars entered his consciousness early on as his father had a Packard and Hill remembers urging him to go faster whenever they were out in it.

He started driving at home in a Model T Ford and graduated to dirt-track pit work before getting his first drive in an Offy Midget when its driver was injured and Hill drove it to qualify. After the war in July 1949, he scored his first race win in his supercharged MG TC in a night-time race at the Carrell Speedway; he won the Final too. He continued racing at night while working for International Motors as a skilled mechanic during the day. The company sent him to England to pick up an XK120 Jaguar and while there he took advanced courses with Jaguar, SU, Lucas, Rolls Royce and MG. His racing breakthrough was a win at the first Pebble Beach road-race in the XK which ended the event with no clutch or brakes.

Early in 1952 he bought his first Ferrari with help from Luigi Chinetti who let him have it for half-price mainly as the latter had his eye on this up-and-coming new driver. The car was the ex Pagnibon/Barraquet 1951 Tour de France winner 212 Vignale Inter chassis 0078. Several wins were taken in the US with this car and in the '52 Carrera Panamerica he finished sixth. This was followed by a 250 MM with Vignale open bodywork chassis number 0260. He finished second in the last Carrera in 1954, with Richie Ginther, in Allen Guiberson's 1954 4.5 reputedly 365 MM chassis 0286, which had been the 1953 Ascari/Villoresi Nürburgring 1000 Kilometres winning car. Meanwhile, Chinetti recommended Hill to Enzo and this led to a works Maranello drive and his performances in the latter part of the 1950s marked him out as one of the greatest long-distance sportscar drivers of all time. His second place at Sebring in 1955, sharing with Shelby in a 750 Monza had done nothing to spoil the newcomer's CV.

Hill's first factory drives were in 1956. He came second at Buenos Aires in an 860 and at Le Mans, sharing with Maglioli, they retired but he had done much to enhance his reputation. Hill was given his first Ferrari Grand Prix drive in 1958 at Reims but he had already won at Sebring with Peter Collins in the new 250 TR 3 litre car. Similarly mounted, in a version with De Dion rear suspension and reversed bonnet air-scoop with revised bodywork, he took his first Le Mans win with Olivier Gendebien. He won again at Sebring in a TR – in fact he made the race his own during this period - and retired while leading at Le Mans but took his most dramatic victory there in the 4 litre 330 TRI with Gendebien. Due to a weakness in the transmission and because they were so far ahead, Phil trickled the car along in top gear at times and received a barrage of paper and ice-cream cartons at the finish from bored spectators!

His desire to go GP racing, not helped by Enzo deciding that his forte was sportscars, led to him hiring a Maserati 250F for Reims in '58 and bringing the car home seventh. At last, at Monza, his Ferrari GP career kicked-off and he finished third in a 246 Dino. As a fully-fledged Ferrari GP driver from 1959, he finished the year fourth with best results of second at Reims and Monza where the big front-engined cars could make their last stand against the nimble British cars of the sneered-at 'garagistes'. He took the last-ever GP win for a front-engined car when he steered the 246 Dino which Tony Smith now owns, to victory at Monza in 1960.

Phil's crowning glory was to go on to take the GP World Championship in '61 with the classic Sharknose Ferrari 156s, remaining the only American born World Champion. He managed to survive all the usual Scuderia Ferrari intrigues of his day, with the consequent insecurities and stress, until the end of 1962. Results had declined due to the British teams catching up and passing Ferrari, so he took part in the famous Ferrari walk-out at the end of the year to drive for Carlo Chiti's new ATS team. A total disaster at the time, the cars' design at least has been vindicated in historic racing, but silk-purse conversions are a specialty of this area. Back then, together with appalling standards of preparation, ATS effectively ended Hill's F1 career.

A futile season with Cooper in 1964 left him dissatisfied and his last GP was the Italian in '66 at the wheel of one of Dan Gurney's Eagles. An active part in Ford's GT40 project led to him staying in sportscars to the end, finally with Chaparral, with whom his last race was a win at Brands Hatch in 1967. Later he enjoyed himself restoring and driving historic race cars. His will to do well stayed with him as anyone who watched him drive Lawrence Auriana's unwieldy Alfa 3000CM so quickly at the Monaco Historic GP will testify.

Our sympathies are extended to his wife Alma, son Derek and daughters Vanessa and Jennifer.

Philip Toll Hill Born 20/4/1927, died 28/8/2008. R.I.P.


Click here to return to the Ferrari Happenings page.

Behind the wheel of Le Mans winning TR with co-driver Gendebien on board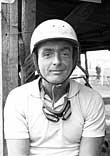 Grand Prix racing came in 1958

World Champion in '61 in the 'Sharknose'

Dreadful ATS effectively ended Hill's GP career

"Modern" career ended with success at Chaparral

In later life he was a regular at Goodwood events
pics by LAT & Unknown