17.9.09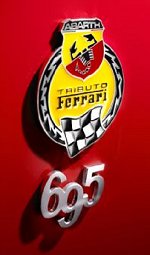 Apart from the 458 Italia, there's something else new with a Ferrari badge at the Frankfurt Motor Show - the Abarth 695 'Tributo Ferrari', a very special Fiat 500.

Austrian Karl (Carlo) Abarth was a renowned tuner and builder of racing cars, mostly Fiat based, including the original 695, famous for racing with its rear bonnet propped open. This was originally intended to assist the cooling of its rear mounted, air-cooled 695 cc twin cylinder engine, but was also found to increase the top speed through improved aerodynamics!

There was only ever one Ferrari-based Abarth, the 1953 Ferrari 166/250 MM, which took part in numerous competitions, including the Mille Miglia; the major connection of Abarth to Ferrari being as a supplier of exhaust systems. The Abarth company was acquired by Fiat in 1971, becoming its competition arm and the racing cars became Osellas. As the Fiat Group went on to compete through its other brands, this great name was sadly relegated to mark trim/model levels. Happily, in 2007 Fiat re-launched the brand with the Grande Punto Abarth and Grande Punto Abarth S2000 and now competes with a factory team in the Intercontinental Rally Challenge.
The two brands have recently renewed their collaboration. The first result of this was the supply of a limited and numbered series of Abarth 500s to Ferrari's European dealers in recent months for use as "courtesy cars". The second is the new Abarth 695 "Tributo Ferrari", which extends Abarth's range and also offers Ferrari customers a small but exciting practical car, especially for urban driving.

The new Abarth 695 "Tributo Ferrari" has a number of stylistic changes, but more importantly by substantial modifications developed by Abarth and Ferrari engineers. The engine, for a start, is a 1.4 Turbo T-Jet 16v, tuned to develop over 180 HP. This is combined with an MTA (Manual Transmission Automated) electromechanical gearbox with race-inspired paddle gearshift that reduces gearshift times.

The car is fitted with performance tyres on 17'' alloy wheels featuring a design inspired by Ferrari wheels. The suspension and braking systems have also been uprated to cope with the extra power: 284 mm multi-section discs with fixed four-piston calipers, both by Brembo, and special shock absorbers. There is a variable back-pressure, dual mode exhaust, designed to improve engine performance and deliver an inspiring noise over 3,000 rpm.

On the outside, the car is finished in Scuderia Red, with carbon fibre door mirrors and with details like the wheels and rear air intakes in Racing Grey. The new tipo is equipped with Xenon headlights.

The interiors are also personalised: "Abarth Corsa by Sabelt" seats are fitted and finished in black leather with a shell and seat base in carbon fibre. These seats improve location and weigh 10 kg less than the standard seat.

The black leather steering wheel is characterised by red leather inserts and a tricolour hub on which the MTA gearshift paddles are mounted, while the instrument panel is specially made by Jaeger, and inspired by typical Ferrari instrumentation. The foot wells are covered entirely in non-slip aluminium and the racing pedals are personalised with the Scorpion logo. The interior is embellished with other details too, like special kick plates and a plate bearing the vehicle series number.
Interestingly, at 3657mm long and 1627mm wide, it's much bigger than the '500' it is an homage to. That was 2979mm x 1320mm. The 695 is closer in size to the Ferrari Dino (4150mm x 1700mm) and with 180HP has about the same power as the orginal 206GT. No weight could be found for the new tipo, but the "ordinary" Abarth 500 is 1035kg, lighter than the Dino at 1180kg. All this suggests that the performance would be very similar. The 695 has a stated 0-100kph time of 7 seconds and a top speed of 225kph (140mph). A spec. book gives the 206GT a top speed of just 5kph more and a slower 0-100 time; such is 40 years of progress.

This looks like a great little car, entirely consistent with its heritage and a worthy collaboration between these two iconic Italian sporting names.