23.11.11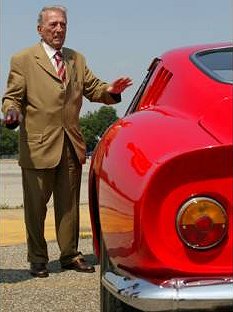 Maranello, 20 November – "Today is a sad day for Ferrari. We lost a friend, a travel companion, a man who had his name forever connected to the Prancing Horse. Sergio Scaglietti leaves behind the legacy of an artist who with his talent created some of the most beautiful cars of our history. Who had the luck to know him like I did will also remember him as a straightforward and honest man, completely dedicated to his work. We will miss him."
These are the words of Ferrari Chairman Luca di Montezemolo regarding the death of Sergio Scaglietti, the legendary Ferrari coachbuilder, who created some of the most famous models from the manufacturer from Maranello, such as the Ferrari California, the 250 Testa Rossa, the 250 GTO and the 750 Monza.
Sergio Scaglietti was a real and natural talent who made cars with his hands and with his eyes, as he liked to say.
Soon the Carrozzeria Scaglietti started to collaborate with the Scuderia Ferrari and a great friendship was born between Enzo and Sergio.
"He was one of my father's best friends," said Piero Ferrari. "He was next to me with Marco Piccinini also the day my father died and stayed with me the whole night until the funeral. I loved him and he was a very important part of my life. My life will be emptier without Sergio."
The Carrozzeria Scaglietti has been an integral part of Ferrari for many years. To underline his unique relationship with the coachbuilder from Modena, Chairman Montezemolo dedicated him the 612, the 2+2 seater Berlinetta.