13.12.12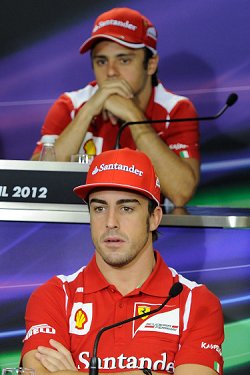 End of year awards are an ephemeral pleasure but nevertheless it's satisfying to get one. In Formula 1, the ones that maybe carry the most weight are those voted for by the sport's inner circle, as was the case in a survey carried out by the British magazine "Autosport." It polled the team principals from all twelve teams that took part in this year's world championship, asking them to put in order the top ten drivers of the past season and then allocated them points as per the current championship system.
Well, Fernando Alonso got a resounding vote: the champion from Oviedo racked up 269 points, a whole 71 more than Sebastian Vettel. The voting was carried out in strict anonymity, but there's no problem in making public the fact that the Maranello Scuderia's team principal, Stefano Domenicali, allocated his 25 points position to his Spanish driver, but even without this, Fernando would have come out on top by a considerable margin. Apart from Domenicali, seven other Team Principals chose Alonso as the best driver of the season.
Felipe Massa also made it into the top ten, even if in tenth spot, which is a further sign of confidence in him, following the "Casco d'Oro" received last Monday from the Brazilian magazine "Racing." This most prestigious Brazilian motor sport award follows on from a second part of the season in which Felipe made great progress.