26.11.12
This article was written by Han Tianyang
and first appeared in Chinadaily.com.cn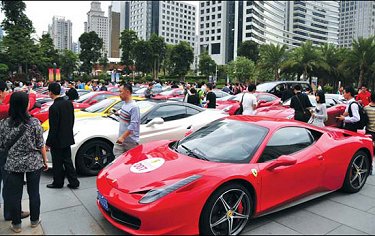 China has lapped others to become No 2 market.
Despite a slowing economy, China is expected to remain Ferrari's second-largest market worldwide in the next three to five years, according to Luca di Montezemolo, chairman of the Italian sports car brand.
The legendary industry veteran told the Chinese press at the ongoing Guangzhou Auto Show that slower GDP growth is "normal" after many years of rapid increases in the Chinese economy.
"We can answer the slowdown by having fantastic products, increasing our dealer network, increasing client satisfaction and loyalty, and through Ferrari's (philosophy of) being unique and exclusive," he said.
But "for sure, in three to five years, we want a stable Chinese market as our second-largest market in the world," he said. Ferrari sold a record-high 777 cars in China last year, more than doubling its 2010 delivery of around 300 units, driving the country straight from fifth to second place in annual sales after only the United States, where it averages around 2,000 cars sold every year.
In the first three quarters of this year, its combined sales on the mainland and in Hong Kong and Taiwan edged up a bit from the same period last year to a total of 566.
"You have to consider we have been in the US for 50 years," Montezemolo said, indicating the potential in China is still enormous.
Ferrari delivered its car to the first Chinese customer 20 years ago and established an official sales company here only in 2004. To further tap the potential, the company will expand its dealer network from the current 25 dealerships to 30 in the next few months, Montezemolo said.
In addition, the sports car legend has been holding a range of activities to expand racing culture and strengthen the bond between the brand and its fans in China. Since 2005, Ferrari has brought the driving training program - corso pilota - to China where the Ferrari customers receive guidance from professional drivers to improve their driving skills. The effort will continue and be enhanced in the future, the company said.
Also, Ferrari will put more focus on coaching China's young drivers for car racing, according to Montezemolo. "Maybe, why not, in the future we can have a Chinese driver in our Ferrari Formula 1."
"We will also increase the relationship between Ferrari and Chinese universities," he added. "For us, scientific innovation and technology research is by far the No 1 priority of the company."
In 2009 Ferrari began sponsoring some students from the School of Automotive Engineering at Tsinghua University in an exchange program to Italy, where they study at a local university and work as an intern at the Ferrari factory.