15.9.12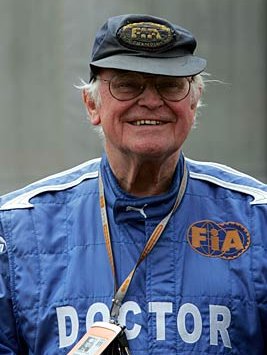 Professor Eric Sidney Watkins, OBE, FRCS, commonly known within the Formula One fraternity as Professor Sid or simply Prof (6 September 1928 – 12 September 2012), was a world-renowned English neurosurgeon. Watkins served twenty-six years as the FIA Formula One Safety and Medical Delegate, head of the Formula One on-track medical team, and first responder in case of a crash. He helped to save the lives of many drivers including Gerhard Berger, Martin Donnelly, Érik Comas, Mika Häkkinen, Rubens Barrichello and Karl Wendlinger. Watkins was also known for his friendship with driver Ayrton Senna until Senna's death at the 1994 San Marino Grand Prix.
In 1978 he met Bernie Ecclestone, at the time Chief Executive of the Formula One Constructors Association, who offered Watkins the position of official Formula One race doctor.
The FIA Expert Advisory Safety Committee was set up in 1994 following the tragic San Marino Grand Prix and Watkins was appointed as its Chairman. He was also responsible for setting up a Rally Research Group and Karting Research Group in 2003. The three groups were brought together in 2004 as the FIA Institute for Motor Sport Safety, with Watkins as President.
In 2002, Watkins was made a member of the Order of the British Empire. In October 2004, Watkins became the first President of the FIA Foundation for the Automobile and Society, and in December of that year he became the first president of the FIA Institute for Motor Sport Safety, both created in honour of the FIA's hundredth anniversary.
Since his retirement, the FIA has recognised Watkins for being largely responsible for the modernization of medical standards in Formula One. On 20 January 2005, Watkins announced his retirement from his various medical positions in the FIA, but stated his intention to continue as President of the FIA Institute for Motor Sport Safety. Following his departure FIA President Max Mosley remarked that "Professor Watkins has made a unique contribution to improving the standards of safety and medical intervention throughout motor sport." In July 2008, Watkins was honoured for the award of 'Most Outstanding Contribution to the Motorsport Industry". On 8 December 2011 it was announced that Watkins had stepped down as President of the FIA Institute, but would continue in an honorary role. The day after retiring, he received the FIA Academy Gold Medal for Motor Sport at the official FIA Gala prize-giving ceremony in Dubai.
There is no doubt many drivers owe their lives to Prof. Watkins, Bernie Ecclestone said he was "irreplaceable". The Editor of this website met him a few times when his company was developing crash barriers and said "He was a good bloke".

Prof. Watkins was married, with four sons and two daughters, to them we send our condolences.