26.2.13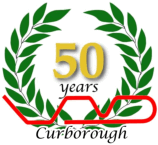 This little motorsport venue near Lichfield celebrates its Golden Anniversary this year. Its modesty belies its importance as there is a meeting here most weekends during the season and it's where many racers make their competition debuts.
It was formerly a small part of RAF Lichfield. Construction of the airfield began in 1939. 51 Maintenance Unit took up residence on 1st August 1940. The largest inhabitants of RAF Lichfield were 27 Operational Training Unit, whose task was to train aircrew on Wellington Bombers before being disbanded in June 1945. 51 M.U. remained on the site for its entirety and were responsible for checking over and carrying out any necessary modifications needed to aircraft that had been received from the manufacturers before they were dispatched to their squadrons. After the war 51 M.U. continued to modify as well as store and break up aircraft until the airfield's closure on 15th April 1958.
When a local farmer purchased the site from the Air Ministry in 1962, Shenstone & District Car Club secured a lease. Their inaugural "proper" sprint meeting took place on 16th June 1963. The famous commentary bus at the finish line appeared in the 1960s and is still there today and our own RS&SOC crossover Tony Richardson has commanded it with pilot silky-voiced distinction in the past.
The classic Curbourgh course is a single lap of 900 yards. Using the top loop twice gives the "double-lapper" of 1557 yards, although purists are ambivalent about this as it delays the release of tension as you blast over the finishing line. S&DCC have improved the facility steadily over the years and 1996 saw the track's surface renewed with a new layer of tarmac after a donation from the National Lottery Sports Council Fund. This was the first motor sport project in the country to receive such funding and was most welcome as anyone who experienced Curborough's patchy surface changes of the past can tell! It also got a return road, a better paddock, more loos and has one of the best Chuck Wagons anywhere.
It's a great place to start competing but it's actually much harder than it looks. In fact it's very technical and fiendishly difficult to achieve the ultimate time. If you go there too often it can actually drive you mad. Forget Eau Rouge, that's for brainless plungers; if you appreciate subtle, try Curborough's Mole Hill, often the site of the dreaded zero MPH spin.
The 1970s gave birth to a obscure motorsports sect known as the "Curborough Regulars" who went nowhere else. They would live happily in their bubble all year until the hillclimbers visited for the season finale - the M.A.C. October meeting. There they would smash the Regulars into the ground and annihilate their records. Sadly this meeting is today a shadow of its former self and without our Ferraris would probably not even be viable.
Multiple British Hillclimb & one-time Sprint Champion: the late Roy Lane's deftness of touch made him the absolute Master of the place and he held the outright single lap record for many years. This is currently held by Nick Algar on 26.69 seconds in a Gould-NME GR55. Over two laps the honour falls to John Bradburn in a Gould-HB GR55 in 49.11 secs. Of interest to sportscar aficionados, those records are held by Christian Mineeff in an Spa-Judd in 28.88 and Jim Robinson (Pilbeam-Hart MP43C) in 53.28 respectively. However as Annie Render says, there will only ever be one "King of Curborough", the late Bob Rose.
Historically Curborough has seen some epic British Sprint Championship run-offs including David Render's victory in 1980 in a Lola-Holbay Abarth. The engine was a straight six 2 litre which was basically half of the iconic 3 litre flat 12 Ferrari F1 engine of the 1970s . Sadly and bizarrely the "Home of Sprinting" no longer features in the Championship.
The Pirelli Ferrari Hillclimb Championship has raced there twice a year in recent times with a double-lapper in August and a single-lapper in October. In those meetings in 2012 our drivers made up about half of the entry! Our 15 round Championship last year was decided there on the last runs of the last meeting - Chris Butler taking the honours from Andrew Holman. Jon Goodwin holds the Ferrari records for both the single-lapper (33.44 seconds) and double-lapper (60.50 secs.) in his 458 Italia. Chris Butler is the quickest "normal" Ferrari over the single lap with 34.70 and Andrew Holman on the double with 62.60, both in 355s. Curborough is also a prime venue for private hire and testing and our Club has held a number of "Introduction to Speed Events" days there. Despite all of the above we only learned of Curborough's 50th by accident. Ah well!
There was a time when it looked like Curborough wouldn't make this anniversary. It was under severe threat from the dreaded town planners in favour of a so-called "eco-village" a.k.a. future slum. As far as we are aware the MSA did nothing to support Curborough or the S&DCC, despite their trumpeting about encouraging grass-roots motorsport. How much better for young lads to be subsidised to thrash around Curborough rather than crash on the streets. One happy consequence of the current recession is that the threat to Curborough has come to halt - or is at least postponed. Time to dig a pool and establish a colony of Great Crested Newts!
Membership of S&DCC gives you entry to all of the events, exclusive Track Days and a somewhat surreal (to the outsider) annual dinner - the Curborough Regular is alive

and well! One final question: why can't Norbert Dentressangle be persuaded to sponsor it?
Long live the Cürburgring! Here's to the next 50 years!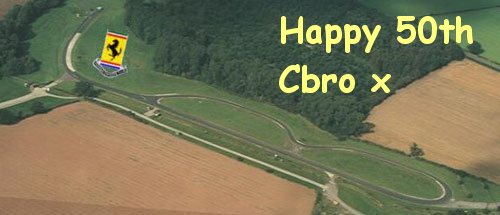 Click here to go to the FOC Competitions page.