13.8.13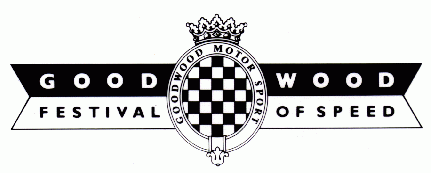 Now in its twentieth year and with more than 190,000 visitors over the four days, the Festival remains an unequalled celebration of human endeavour on two, four and more wheels. With multiple exhibits from global motor manufacturers, "factory" museums and renowned, private collections, combined with stars who have influenced our sport, the event remains unmissable, whatever your preferred discipline.

Celebrating its Golden Jubilee, the Porsche 911 was the focus of Gerry Judah's sculpture outside Goodwood House, with three examples (911, RS "ducktail" and 991 Carrera 4S from the Porsche Museum Stuttgart) of the legendary design, secured atop a fifty tonne, arrow-like superstructure…. acknowledging the late Ferdinand "Butzi" Porsche's innovation in suspension and supercar design.

Additional celebrations included –
- Sixty years of the World Sportscar Championship
- Fifty years of McLaren Racing
- Fifty years of the European Touring Car Championship
- Forty years of the World Rally Championship
- Twenty years of the Festival of Speed
- Land Speed Record Legends

The three established paddocks, located either side of the House, were split by entrants of the Cartier Style et Luxe Concours and with an eclectic entry of vehicles, ranging from the 1970 Mercedes -Benz C111 concept car, via the unique 1938 Phantom Corsair and 1954 Fiat Turbina - there was a car to suit every taste. Catching my eye were the 1941 Bugatti Royale "Henri Binder Coupe de Ville", the unique 1960 Aston Martin DB4 "Jet", and the overall winner – a 1955 Lancia Aurelia B24S Spider. Sharing the stables lawn were twelve cars from BBC Radio2 DJ and Club member Chris Evans' collection, helping to raise more than £2million for the UK charity "Children in Need".

The adjacent supercar paddock featured cars from twenty-nine manufacturers, displaying either production models, prototypes or design concepts. Ferrari North Europe presented a 458 Spider, a F12 Berlinetta, a FF and Eric Clapton's SP12EC, whilst very popular with visitors were the McLaren P1 hybrid-drive, and my favourite, the Jaguar Project 7. Personal award for most ungainly car on display must go to the Sin (!) R1, and I never even mentioned the gawdy GTA Spano!

The significant attendance at the Bonhams Auction enjoyed something for every budget (all figures include buyer's premium). The ex-Juan Manuel Fangio 1954 Mercedes-Benz W196 became the most expensive collectors car ever sold at auction (£19,601,500) whilst a new US owner secured the 1955 Maserati 300S at a market-correct £4,033,500, resulting in a world record for a Maserati sold at auction. Of the five Ferraris offered all except a 1992 F40 sold - with a RHD (one of only eight) Classiche certificated, 500 Superfast achieving £852,700, the ex-John Lennon RHD 330 GT Mk1 realising an astonishing £359,900, whilst a superbly presented LHD 330 GT Mk1 found a new home at £141,500, and an eminently usable LHD 1970 365GT2+2 £63,100.

"Purchase of the sale" was a comprehensively upgraded 1958 Jaguar XK150 FHC, looking very good value at £63,100. All credit should go to Bonhams for a multiple record breaking sale, not least their internal record for a single UK sale total.
On "the hill", the Ferrari enthusiast saw rapid demonstrations from the F1 Scuderia's simultor & test driver Marc Gene in the 2009 F60. FIA GT and historic racer Paul Knapfield was quick in both his unique 712 Can-Am racer and 312PB, Annette Mason piloted the family 250 GTO, Evert and Quirina Louwman shared their family collection's 1952 Grant Piston Ring Special, five-time Le Mans winner Emmanuele Pirro was expectedly quick in Shaun Lynn's 512S, Jean Francois Decaux looked controlled in his 312/68, whilst historic racing regular Franco Meiners, demonstrated the unique 312B3S "Spazzaneve", David Cottingham piloted the 1961 Tourist Trophy winning 250SWB/C and Sally Mason-Styrron celebrated the twentieth anniversary of her first climb of the Goodwood Hill in her 166 Barchetta.

With the F1 season at halfway point seven teams stopped off en-route to Budapest to entertain in the balmy sunshine of the Sussex countryside – Caterham, Lotus, Marussia, Williams, Ferrari, Red Bull and Mercedes produced "doughnuts" aplenty, with biggest cheers reserved for Lewis Hamilton in the 2011 spec. MGP W02.

Elsewhere, Flying Finns Rauno Aaltonen, Bjorn Waldegard and Mikko Hirvonen were amongst the many famous names who took part on the rally stage, first designed by their compatriot Hannu Mikkola.

The popularity of the Festival of Speed can be seen from the number of famous drivers and riders, past and present, who relish the opportunity to be reunited with their original charges – this year, the Black Rock Drivers Club welcomed amongst others Alain Prost, Sir Stirling Moss, Sir Jackie Stewart, Emerson Fittipaldi, Nelson Piquet, Tom Kristensen, Jacky Ickx, John Surtees, Carlos Sainz, Damon Hill, Tony Brooks, Norman Dewis, Danny Sullivan, Eddie Cheever and riders Giacomo Agostini, Kenny Roberts, Kevin Schwantz, Randy Mamola and John McGuinness.

My highlights – there were many:

- Hand-built by the Ford Motor Company, to promote its commercial vehicle range, the first "Supervan" was completed in 1971, using the chassis and engine of a GT40 race-car, mated to a Transit Mk1 body-shell…..top speed, 150mph.... As the Transit design evolved, an updated replacement was finished in 1984 – "Supervan 2" first presented at that year's inaugural British Truck Grand Prix, using the platform of Ford's C100 Group C racer powered by a 450bhp Cosworth DFL. A decade later, and to coincide with the release of the Mk5 Transit, "Supervan 2", was restored, using an updated fibreglass silhouette and more tractable 450bhp V6 engine. "Supervan 3" was driven hard over the FOS weekend by long-time Touring-car, Group C and now historic racer, Anthony Reid.

- Designed in July 1968 by Helmuth Bott, initially utilising a 450bhp, flat-twelve cylinder 4.5 litre air-cooled engine - the Porsche 917 was the Stuttgart marque's answer to Ferrari SpA's all-new 512 in World Sportscar racing. Initially plagued by high-speed stability issues, which wre overcome with revised bodywork designs, with production of the so-called "Kurzheck", "Lang" and "Langheck" variants, contributing to back-to-back Le Mans victories in 1970 and 1971. With Porsche AG's desire to expand its profile in North America; in 1972 it entered the Can-Am Challenge with an extended chassis 917, complete with revised bodywork, and initially powered by a turbocharged, twelve-cylinder, 800hp engine, before ultimately replacing it with a 5.3 litre, twin-turbocharged unit, capable of 1,580 bhp at full-boost and a more modest 1,100hp(!) in conventional race specification. In 1973 the 917/30 won every round of the Challenge, the first non-Chevrolet powered car to do so. Demonstrated regularly at collector car events worldwide, Porsche enlisted the driving talents of current Force India F1 GP and enthusiast Adrian Sutil over the weekend.
With Bob Riggle, Terry Grant and Jason Phelps amongst many others entertaining the crowd, the Festival of Speed is a unique celebration of car and bike culture and innovation.
| | | |
| --- | --- | --- |
| | | The author is a Director of 2B Consulting Automotive who offer the sale and brokerage of fine automobiles. Click on the logo to go to their website. |