25.6.13
[This article first appeared on the MOTORTREND website - pic by Garage Zenith]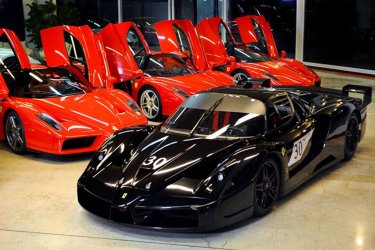 If you're looking for a with some significant history and one very famous owner, then Swedish supercar dealer Garage Zénith might be worth a visit.
The officially recognized Ferrari and Maserati dealer has a handful of rare Enzo supercars up for sale, but two of the cars, featured in the gallery above, were previously owned by none other than seven-time Formula One world champion Michael Schumacher.
Both cars were specially built for the racing legend during his time with Ferrari and come with a number of personal touches including his initials dotted around their interiors.
The regular Enzo also has a number of famous signatures under its hood, including that of Ferrari chairman Luca di Montezemolo. Interestingly, it has 8,500 kilometers (5,280 miles) on its odometer, suggesting Schumacher did manage to drive the car somewhat during the time he owned it.
The same can't be said for the FXX, whose odometer reading is just 900 kilometers (559 miles), though this makes sense considering the car can only be used at the track and Schumacher has access to much faster track toys.
This particular FXX is the only black example of the Enzo-based experimental supercars, of which only 30 were ever built, and it famously appeared on Top Gear back in 2009 with Schumacher taking it for a power lap at Dunsfold Aerodrome.
Both of these cars were gifts to Schumacher for his achievements at Ferrari, so it's odd that they're now up for sale. If you'd like to own one you'll have to front up some serious cash; the Enzo will set you back approximately $1.47 million while the FXX will cost you close to $2.67 million.