1958 Revisited (Part II)
by Graham Easter

18.9.08


In Part I, we set the scene for an epic season that was to be a fight between Scuderia Ferrari of Maranello, Italy and Vandervell Products of Acton, England. Vanwall's first Grand Prix win had been the British/GP of Europe at Aintree the year before, they followed it up by winning the next two GPs on "the enemy's" home soil of Pescara and Monza. Vanwall and its three British drivers, Stirling Moss (generally acknowledged as the best in the world), Tony Brooks and Stuart Lewis-Evans were ready and able to take them on - well almost.

Over in sunny Italy, Scuderia Ferrari was ready too. They had the new, light and powerful 246 F1 Dino and a formidable driver line-up of Englishmen Mike Hawthorn and Peter Collins, race winners and potential champions both, plus Italian Luigi Musso, also a race winner. If this was not enough, Belgian Olivier Gendebien, German Wolfgang von Trips and American Phil Hill would also race for the Scuderia in this year.

The season opener was the Argentine GP held in Buenos Aires on January 19th but Vanwall did not take part. They had not managed to convert their engines from alcohol-based fuel to the now mandatory AvGas (aeroplane petrol) in time. Alcohol fuels gave more power than petrol but, more important, engines ran cooler and Vanwall were struggling to adapt their Manx Norton-derived engine.

Stirling Moss was released to drive Privateer Rob Walker's 2.2 litre Cooper. He made his way through the field until he took the lead with Luigi Musso following for Ferrari. The Ferrari team expected Moss to stop for tyres and with the Cooper's bolt-on (rather than knock-on) wheels this meant Musso was bound to win. However Moss raced on and famously won on tyres with the canvas showing, sensationally scoring the first-ever World Championship victory for the Surbiton "blacksmiths".

There was a four month wait for the next GP in Monaco. This time Vanwall were ready, so it was veteran racer, former Scuderia Ferrari pilota and 1955 Monaco GP winner in a Tipo 625, Maurice Trintignant who drove Walker's little Cooper. He scored their second win in a row after many of the main contenders, including Moss, Hawthorn and Brooks had retired.

Intriguingly, one of the entrants at Monaco was a Mr B.C. Ecclestone. When Connaught Engineering went into liquidation in 1958 the cars were bought by Bernie. Although listed as a driver he did not record a time. Other F1 World Championship debutants in the same race were Team Lotus and future World Champion Graham Hill. Fourteen seasons after their last race Team Lotus are still third in the rankings of all time race winners. We all know what happened to Mr Ecclestone.

The Dutch GP followed Monaco and was won comfortably by Moss with Hawthorn fourth for Ferrari. In the Belgian GP at Spa, Moss missed a gear and blew up his engine leaving team-mate Brooks to win from Hawthorn. The French GP was held at Reims, another ultra-fast road course and saw Ferrari in better form. The suspension of the Dino 246 had been modified and Hawthorn qualified first from Musso with Collins fourth. Hawthorn soon took the lead from B.R.M.'s Harry Schell with Musso chasing him. On lap 10 the Italian tried to take Muizon corner flat out, lost control, the car left the road and was flung into a number of somersaults. Musso was thrown out and died in hospital. Hawthorn won what was to be his only GP win in his championship year and the third and last of his career.

At the same race reigning five times World Champion Juan Manuel Fangio was fourth in a Maserati 250F of which he was also the entrant. He had only competed in one other race that year, his home GP in Argentina and was not to appear again, thus one of the greatest careers in motor racing came quietly to a halt.

After this sad race came the British GP at Silverstone. Mr B. C. Ecclestone was again an entrant and this time did drive. He posted a 2:38.4 in qualifying which was some 59 seconds slower than pole man Stirling Moss; so Bernie failed to join the ranks of the elite who have competed in a GP. I wonder how many of his riches he'd give up to have qualified that day, also whether it's another reason he seems to have got it in for Silverstone; though in reality I'm sure he'd say none and no.

Peter Collins did qualify on the second row and from there burst through to take the lead on the opening lap. He increased that lead lap-by-lap and broke away from the pack with Moss and Hawthorn. Moss' engine blew up on lap 26 leaving Collins a comfortable winner with his team-mate and friend Hawthorn second in a Ferrari 1-2.

This was Collins' third GP win and his last. Just two weeks later he was dead, killed in the German GP held on the Nürburgring Nordschleife. He was lying second and pushing hard to get on terms with Tony Brooks' leading Vanwall. In Pflanzgarten Collins' Dino went wide, a wheel dropped into trackside ditch, the Ferrari somersaulted (like Musso's) and Collins was thrown into a tree and incurred severe injuries from which he died in hospital.

The Portuguese GP followed three weeks later and was held at the Oporto street track which has recently been revived for historic racing. Moss led from early on and then as it says in Moss' authorized biography (*) "As he (Moss) was completing the race, though, he saw something that moved him. He knew, as everyone did, that Hawthorn was miserable about the death of Collins, and when he witnessed the hapless Brit trying to push-start his car uphill, he slowed and shouted at him to manoeuvre it around and use the downhill slope, which Hawthorn duly did. He managed to re-start it and complete the lap to claim his second place. Stirling did not know at that point that Hawthorn had bagged yet another fastest lap (and the point that went with it in those days)".

The Stewards later tried to disqualify Hawthorn for pushing his car against the direction of the circuit, but Moss pointed out that the rules said he was not on the circuit. Moss' compassionate and chivalrous actions and the additional points Hawthorn accrued as a consequence were to be of crucial importance to the outcome of the World Championship.

Vanwall were to gain revenge for Ferrari's victory at Silverstone at the Italian GP at Monza. The race saw future Ferrari World Champion Phil Hill making his GP debut in a full F1 Ferrari and he actually led the race early on until Hawthorn passed him and later when the Englishman stopped for a new tyre. Hawthorn re-took the lead when Hill stopped for tyres too, but was caught and passed by Brooks in his quicker Vanwall, who won. Moss retired with gearbox trouble, Phil Hill took fastest lap.

There was then a six week wait to the eleventh and final GP of the season in Casablanca. Moss had won three times to Hawthorn's once, but had retired four times to Hawthorn's two. Hawthorn had 40 points to Moss' 32, but would have to drop scores as only the best six could be counted whereas Moss would not. What it boiled down to was that for Moss to steal the title he would have to win in Casablanca with his rival finishing no higher than third.

Moss did what had to be done but so did Hawthorn, who finished second to secure the title. This race was to bring yet another tragedy when Vanwall driver Stuart Lewis-Evans crashed and his car burst into flames. Six days later he died of of his burns , depriving a heartbroken Tony Vandervell of any happiness in his lifetime's achievement. Hawthorn was already sickened by the loss of his best friend and team mate Peter Collins, so there was no joy in victory for either championship winner.

This was Stirling Moss' fourth second title place in a row and the best he would achieve before his career was sadly cut short by his accident at Goodwood in 1962. Moss is rightly regarded as the top driver of his era and certainly the greatest never to win the title. His chivalry in Portugal is seen by some to have cost him the title he so richly deserved. Having read a fair bit for this article, I think this is unfair to Mike Hawthorn and Ferrari.

Hawthorn did win fewer races, but he kept his car going and kept piling up the points; also he toughed it out to the end, despite his heart clearly not being in it. If you count the scores from all of the rounds (as today) Hawthorn would have had an eight point advantage over Moss, so the first British World Champion richly deserved his title.

To fully understand the pro-Moss legend, you have to appreciate the feeling at the time. Unless you are old enough to remember it, it's only when you read contemporary sources that you begin to realise just how intensely patriotic the British media and fans were. A small indication is that in Autosport of the day British (and Commonwealth) drivers and cars were highlighted in bold type. Italy was the dominant force in motor racing, what Tony Vandervell referred to as "those bloody red cars", and beating them was an immense source of pride and joy in an austere post-war Britain.

Moss was a British driver in a British car and Hawthorn had gone foreign. In the contemporary Autosport the disappointment at Moss' failure to secure the title is palpable. They were stunned and only later recovered to politely celebrate Hawthorn's achievement. Mike Hawthorn retired from racing at the season end and tragically was killed in a road accident just three months later, after surviving all those years on the track when motor racing was so very dangerous. Tony Vandervell's spirit was broken and his Vanwall team never raced seriously again, but they had taken on and beaten Ferrari on equal terms.

These were the last F1 championships won by front-engined cars. Jack Brabham and Cooper-Climax triumphed in 1959 and 1960 and Britain become the technological leader in motor racing, with 1958 debutants Lotus at the forefront much of the time. Ferrari built a mid-engined car in 1960, the 156 Sharknose dominating a year later with 1958 debutant Phil Hill winning the Drivers' title.

Finally, It's worth pointing out that there is only one F1 team racing today who were racing in 1958 and this racing heritage is a fundamental part of the marque's unique charisma – Forza Ferrari!


* Stirling Moss - The Authorised Boiography by Robert Edwards


Click here to return to the Ferrari Happenings page.

Vanwall's first GP win had been the year before at Aintree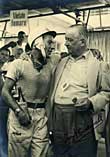 Vanwall team leader Stirling Moss with team owner Tony Vandervell

Mike Hawthorn (left) and Peter Collins (right). Friends and team mates at Ferrari....

....with Luigi Musso

Monaco '58 saw Graham Hill and Team Lotus make their GP debuts

Hawthorn (nearest) won the French GP at Reims. Musso (next) was to die chasing him

Hawthorn was second at Silverstone

...behind Collins

Moss won the season finale at Casablanca, Phil Hill follows...

....but Hawthorn took the Championship by one point

The front-engined Ferraris soon had to give way to mid-engined Brits....

....but the Scuderia bounced back with the iconic 156 'Sharknose'.....

....and is the only team still racing - and winning today
pics Ferrari Media, LAT & unknown