9.4.09


No wonder Jenson Button looks so pleased, have you seen his latest girlfriend! She is Japanese-Argentinian lingerie model Jessica Michibata. Japanese-Argentinian lingerie model……sounds like something from a fantasy game, but apparently she's real. Oh yes, also last Sunday he won his second GP in a row, which just over a month ago would have seemed like a fantasy too.

Newton's Third Law clearly applies to British drivers as in Malaysia Lewis Hamilton called a press conference to apologise for "the worst thing I've experienced in my life". He had been branded a liar and a cheat by the world's media after "deliberately misleading" the Stewards over the Jarno Trulli safety car incident in Australia. Hamilton was instructed by McLaren Sporting Director Dave Ryan not to say that he'd been told to let Trulli past.

This was clearly a serious crime – deliberately withholding evidence to get another competitor penalized. It was also stupid; Hamilton had already revealed the true state of affairs to the media and the pits-car radio traffic was recorded. Hamilton and Ryan still denied the real state of affairs even when actually confronted by the evidence. However, it was also very understandable. Hamilton had gained and deserved third place; after Spa last year, Ryan clearly had no faith that McLaren would be treated justly. Hamilton, who has been part of the McLaren machine since he was a boy, obeyed orders.

On Tuesday came the news that McLaren have been summoned to appear before the FIA World Motor Sports Council to answer charges that it has brought the sport into disrepute. On Wednesday came the news that McLaren has sacked Dave Ryan, whom they had earlier suspended. I think this is truly horrible given he made one foolish mistake after a lifetime's service to the team. I hope that Ron Dennis (absent from Malaysia) ensures that he receives a decent payoff at the very least and that another team immediately snaps him up.

I trust this clear attempt to make Ryan the scapegoat will not prevent sanctions being taken against both McLaren and Lewis Hamilton. After all, Hamilton is an adult and the World Champion and with that comes serious responsibilities. Suspension for both for a number of races would seem to be just. Mind you, as there's been no sign of Lewis's Pussycat Doll girlfriend Nicole Scherzinger for a while, maybe he's suffered enough already. Sorry to be flippant, but it was necessary to complete the Newton's Third Law analogy.

On track in Malaysia it was shaping up to be another great weekend's racing. The all-important Q3 was gripping with times falling and P1 changing almost as often as each car flashed over the line. Button secured his second pole in a row from Trulli by nine-hundredths. The post-qualifying weigh-in showed that both Button and Trulli had a proper amount of fuel in their cars, with the Toyota 3.5kg lighter. Vettel's Red Bull was lightest. He was third but had to take an (unfair) ten place penalty for his collision with Kubica in Oz. Most of the cars seem to suffer from oversteer, with the back end suddenly breaking away. This was not true of the Brawn BGP001 and indeed, Rubens Barrichello actually complained of understeer.

For Ferrari Raikkonen could only manage ninth and his F60 was the first KERS-equipped car. Massa was 16th and out after Q1! The team had been guilty of overconfidence and just completed one run on the harder tyre to save the better, softer tyres for later. Neither McLaren made it through to Q3.

The race was timed to start at 5.00pm local time as Bernie Ecclestone tried to juggle the needs of Far Eastern governments who pay for it and we Europeans who actually watch it. In the end neither was satisfied. Button made a bad start, but Rosberg made a blinder and leapt into the lead from the second row. Button fought him for too long, went wide onto the marbles and ended up fourth behind Trulli and Alonso. He soon passed the corpulent Renault on the inside and this was how the lead stayed until Rosberg pitted on lap 15. Trulli took the lead for a lap, but lost it to Button when he pitted. Jenson then put in a couple of blistering laps reminiscent of Schuey and Ross at their best, to emerge still in the lead after his own stop.

The rain clouds had been gathering and looked increasingly ominous as the race went on, but there was still no actual precipitation when, to everyone's astonishment, Raikkonen pitted on lap 18, and a set of full wets were bolted on! Two laps later there was still no rain and it was clear Ferrari had made a major tactical blunder, their second of the weekend.On lap 22 it did finally start to rain and 12 cars dived into the pits but it was already too late for Raikkonen who radioed in that his tyres were useless. It was not raining all around the circuit, but Timo Glock was the only one to fit intermediates, and consequently he began to work his way up through the field.

There was some great dicing at this stage of the race, the Red Bulls being particularly impressive at one point. The rest of the field gradually got the message about the inters and between about laps 26 and 28 most came in to change to the more robust, lightly grooved tyre, but by now Glock was up to second. Button pitted for inters, but almost immediately Glock dived in for full wets as it had begun to rain heavily.

Soon it was a monsoon. Lightning hit the grandstand and the TV signal was blacked out. Glock was once again ahead of the game as others had to pit for wets, but soon the rain was such that no tyre on earth could cope with it. The Safety Car was deployed on lap 32, but conditions were impossible. With cars skating off everywhere the race was red-flagged. The sodden and bedraggled field was assembled on the grid and we waited, and waited, and waited....

There followed general scenes of chaos and confusion with drivers in and out of the cars, Mark Webber rushed about doing his Grand Prix Drivers' Association Shop Steward bit. Umbrellas, towels, ground sheets and Pac-a-macs were employed in a hopeless attempt to keep more water out. Strangely enough, no-one seemed to posses an E-Z UP, unlike most clubbie racers. [The PFHC has just sent theirs to Maranello – Ed.].

Amidst all this shambles, we saw Raikkonen's car in the pit garage, which is not allowed. Then we saw why Kimi is called the "Iceman". He was out of the car, in shorts and Tee shirt, in the Ferrari hospitality unit, tucking into a Magnum "Classic". Mind you, who can blame him? If I'd have spent the last few laps up to my posterior in water and surrounded by Italian electrics, which had already gone up in smoke on Friday, I'd have wanted something a bit stronger, possibly an "Ecuador Dark". Seriously though, time he was somewhere else.

When a race is stopped at more than half-distance, but less than three-quarters, half points are awarded, after that it's full points. There was some shuffling about of the cars to get them in the right order in the vain hope that the race could be run out under the Safety Car. The rain kept falling and the clock kept ticking away, until at two hours it was all over. So what had been an exciting race ended as a soggy mess. Bernie's insistence on a 5 o'clock start meant that even if the rain had stopped, it would probably have been too dark to continue.

The results were called on lap 31 and Jenson declared the winner, when the FIA lap chart shows he was in the pits. This was another terrific race for him and Brawn GP. Prior to the race, the car hadn't even been driven in the wet. Nick Heidfeld stole second from Glock, a poor reward for the Toyota driver and an unbelievably lucky result for Heidfeld, who'd qualified 11th. Not only that, he'd spun off on lap 32, which now no longer existed! Trulli was classified fourth, ahead of Barrichello, Webber (who, for a change, said he could have won.....), Hamilton and Rosberg, who must have been very disappointed to come away with just half a point after leading the race so strongly.

As for Ferrari, we already know what happened to Raikkonen. German and Italian media claimed that Schuey was responsible for the call which saw him out on wets way too early. Schumacher's manager Willi Weber was swift to rubbish this and suggested that his contract with Ferrari may not be renewed at the end of the year. For some time now, I've said what a sad sight he is in the pits. What can the ex-driver do, other than test, coach another driver or run the team? At the moment there are no vacancies, but even if the last job does become available, Schuey has already said he doesn't want it.

After the Qualifying mishap, Massa had one of those races were he was completely out of it and just trundled around. Nil points again and Ferrari's worst start to a season since 1992. Team Principal Stefano Domenicali has said that that the errors were unacceptable and the situation must be improved immediately. President di Montezemolo has said Ferrari WILL respond.

Time I reckon to get over to Brackley, buy them Brawn GP cars, chuck the Ilmor engines out, bolt the Fazza V8s in, paint them red, slap on a Scudetto or two and it'd be "Fratelli d'Italia, I'Italia s'è desta!" again before you know it. Drivers? M. Schumacher and Button or Barrichello, not fussed until Vettel's available.
THE MALAYSIAN GRAND PRIX, SEPANG, KUALA LUMPUR, MALAYSIA;
31 LAPS. WEATHER: SUNNY, THEN WET.
Classified:
Pos
Driver
Team

Time

1.

Button
Brawn GP

55:30.622

2.

Heidfeld
BMW Sauber

+ 22.722

3.

Glock
Toyota

+ 23.513


4.

Trulli
Toyota

+ 46.173

5.

Barrichello
Brawn GP

+ 47.360

6.
Webber
Red Bull

+ 52.333

7.
Hamilton
McLaren

+ 60.733


8.
Rosberg
Williams

+ 71.576


9.
Massa
Ferrari

+ 76.932

14
Raikkonen
Ferrari

+ 142.841

Fastest lap: Button, 1:36.641
World Championship Standings, Round 2
Drivers:
Constructors:

1.

Button

15

1.
Brawn GP

25

2.
Barrichello

10

2.
Toyota

16

3.
Trulli

8.5

3.
BMW Sauber

4

4.
Glock

8

4.
Renault

4

5.

Heidfeld

4.5

5.

Williams

6.

Alonso

4

6.

Toro Rosso-Ferrari

3

7.
Rosberg
7.
Red Bull

1.5

8.
Buemi

2

8.
McLaren

1

9.
Webber

1.5

10.
Hamilton

1

11.
Bourdais

1

Jenson's latest....

....but despite the distraction he secured pole in Malaysia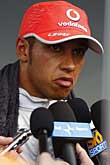 Unlike his compatriot, Lewis was not happy

Dismissed McLaren Sporting Director Dave Ryan with Stefano Domenicali (2008 pic)

At the start Rosberg blasted through into the lead from the second row....

Nieba! Mój osiol nie wybuchla!

Rosberg held the lead from Trulli until the first pit stop

Massa down where he didn't oughta be

Raikkonen behind the corpulent Renault of Alonso

Look at that sky

err, no

The Brawn GP001 seems to work OK in the wet too

Heidfeld from Glock, the order in which they were classified

Safety Car out

Must be water wings

How the race finished

Two in a row for Button and his "Big Bear"

Click for FIA lap chart
pics by Ferrari Media, FIA, Reuters, XPB, LAT & Sutton